Battleforce: Gloomspite Gitz – Stampeding Squigalanche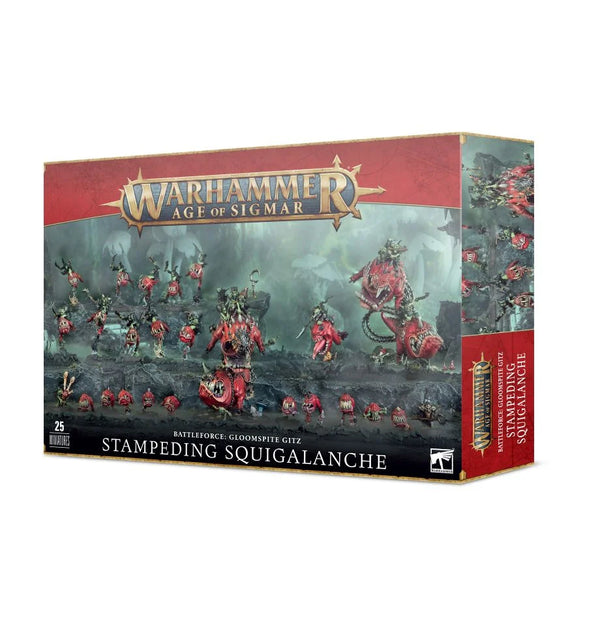 war, when the squigs get involved. Led by deranged Loonbosses mounted atop ravenous Giant Cave Squigs and massive Mangler Squigs, mobs of cackling Squig Hoppers ricochet into the enemy lines, clinging to their steeds for dear life, while Squig Herds bring up the rear like a wall of gnashing fangs, pointed and prodded in the general direction of whatever their herders need bitten.
With Heroes, Battleline, and additional squiggy support, this Battleforce boxed set is an ideal way to start a full Gloomspite Gitz army, or add to an existing collection with Moonclan models that can be built in a variety of ways. The box includes 25 plastic miniatures for use in games of Warhammer Age of Sigmar, and will also save you money compared to buying the contents individually.
This set includes the following multipart plastic models:
- 1x Loonboss on Giant Cave Squig
- 2x Loonbosses on Mangler Squigs, which can also be built as Mangler Squigs
- 10x Squig Hoppers, which can also be built as Boingrot Bounderz
- 10x Cave Squigs, accompanied by 2x Squig Herders
All models are supplied with their appropriate bases.