Old School 7 Piece DnD RPG Metal Dice Set: Gnome Forged - Black Nickel w/ Green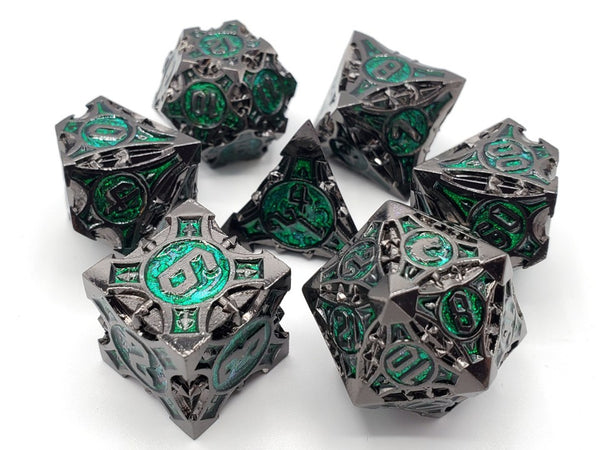 There are many words that describe Gnomes. Often stereotyped as buffoons, illusionists, mad inventors;all gnomes have one thing in common, they LOVE shiny trinkets! This what makes them excellent Mastersmiths. That is why we hired the very best Gnome Mastersmiths to create and forge our very own 'Gnome Forged' line of metal dice. These dice are brilliant, shiny, well-balanced and not for the casual player!

Old School Dice & Accessories carry a wide range of premium & specialty dice. Each fabulous set is hand checked to make sure that you are getting the highest quality. Made of a die cast non-toxic zinc alloy, these dice have colors that are clear and bold. Our dice sets work great for RPG's such as DnD, Pathfinder, Call of Cthulhu and other games. Each RPG 7-dice set includes all of the standard polyhedral dice.
7-PIECE DICE SET INCLUDES
One of the following: d4,d6,d8,d10,d10(00-90),d12,d20

An exclusive Old School Dice & Accessories Metal Dice Tin!
FEATURES
Each d20 has an exclusive Old School Dice & Accessories 'Dragon Head' Logo replacing the '20'.

Excellent balance, weight & feel for that serious roller

Made of die-cast non-toxic Zinc alloy

Standard 7 piece RPG dice set, standard 20mm d20 size

Great for DnD, Pathfinder, Call of Cthulhu  and other RPG's